Safety solutions for the SMB market – video surveillance and intrusion protection increasingly available
Although the Small and Medium Business market has not changed substantially over the last two years, there is an increased awareness and interest for video surveillance as well as other safety and security related solutions – a development set to continue over the next years. For owners of all kinds of businesses like small shops or filling stations, but also within the residential area, this development is driven by an increased demand for safety and thus for the availability of solutions responding to this need. Especially in the retail sector an ever increasing want to reduce losses caused by theft from customers and employees alike can be observed.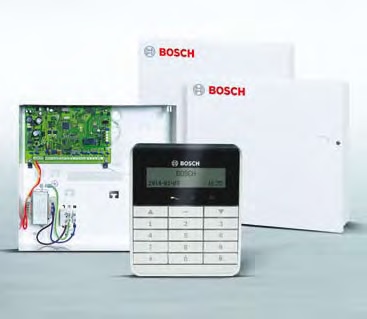 Alongside this stands another recent development, namely the demand for accessing camera controls, live video streams and HD images anytime from anywhere regardless of the available bandwidth. Concerning this demand, the latter is just as important as the ever increasing demand for more detail, that is to say a higher resolution. Consequently, the transition from analog to IP video solutions is evident in the SMB market. Bosch has been emphasizing specific intelligent IP video solutions for small and medium businesses since 2011. Recent examples are: the TINYON IP cameras, IP 4000 and IP 5000 cameras as well as the DIVAR IP 2000 recording solution.
TINYON IP 2000 WI and TINYON IP 2000 PIR cameras, for example, offer a cost-effective, reliable and complete solution to easily set-up a professional system securing homes or small businesses. As 2-in-1 solutions, both models combine an integrated passive infrared (PIR) sensor and a 720p HD IP video surveillance camera. Even in complete darkness, the PIR sensor enables the detection of any motion within a five meter range. Depending on the light levels, a motion alarm triggers the built-in white light LED, ensuring the highest quality of video images. This guarantees the easy identification of events or intruders. Besides motion detection, both cameras offer a built-in microphone to trigger sound-based alarms. Together with the integrated loudspeaker, users can establish a remote two-way communication channel to address and verify possible security situations.
With the IP 4000 and IP 5000 family, Bosch has raised the bar and set new standards in security and data management within the small and medium business segment. The IP 5000 family offers resolutions up to 5 megapixels making it easy to distinguish individuals or minor details, significantly increasing the effectiveness of retrospective analysis. The lower-cost IP 4000 family offers the same performance at 720p resolution. All SMB cameras are equipped with Content Based Imaging Technology (CBIT) ensuring that captured images are tailored to the content of the scene. Depending on movement and varying light intensity, the camera settings are continuously and dynamically adjusted. This ensures perfect exposure of objects of interest while reducing bitrate by up to 50%. Consequently, storage costs and network strain are reduced significantly without compromising video quality. Both families offer a complete portfolio providing a camera suited for any facility – indoor or outdoor. Even in complete darkness, the IR models capture all relevant images.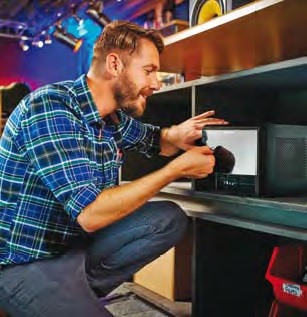 In case of an alarm, all IP cameras from Bosch offer the possibility to send notifications to users via text message or e-mail. Moreover, facial snapshots or video clips can be directly send to pre-defined recipients or (free) cloud accounts, allowing for a fast response of users. Video data can either be stored in the cloud, on a network video recorder like the DIVAR IP 2000 recording solution from Bosch, or on the built-in SD card. Thus, all cameras offer easy back-up solutions to ensure the safe storage of the relevant video data.
Another important fact is the ease of installation and configuration. With the DIVAR IP 2000 Bosch offers the possibility to create a video surveillance solution with professional security features that is both easy to install and easy to use. It provides safe data storage, 24/7 remote access as well as advanced features to manage your video data. The Common Product Platform (CPP) ensures easy maintenance and backward compatibility over multiple IP camera generations, plus a future-proof solution to enhance or add new features via firmware updates. A single firmware for all cameras significantly reduces maintenance costs and enables easy 3rd party integration. To further enhance the ease of installation, the IP 5000 series of micro dome models, for example, is equipped with a 3-axis lens for a precise field of view on a wall or ceiling.
Meeting the demand for 24/7 remote access and control, Bosch offers their unique and patented
Dynamic Transcoding technology. This delivers users both smooth live video streaming and instant access to HD images and recordings as well as camera controls, regardless of available bandwidth anytime, anywhere.
Depending on the customers' needs they can "mix & match" the SMB solutions from Bosch to meet their requirements. This can either be a complete Bosch solution or a combination with 3rd party products and services. The thereby arising potential for the flexibility of integration is supported by the Integration Partner Program (IPP) from Bosch as well as ONVIF conformity of the camera solutions.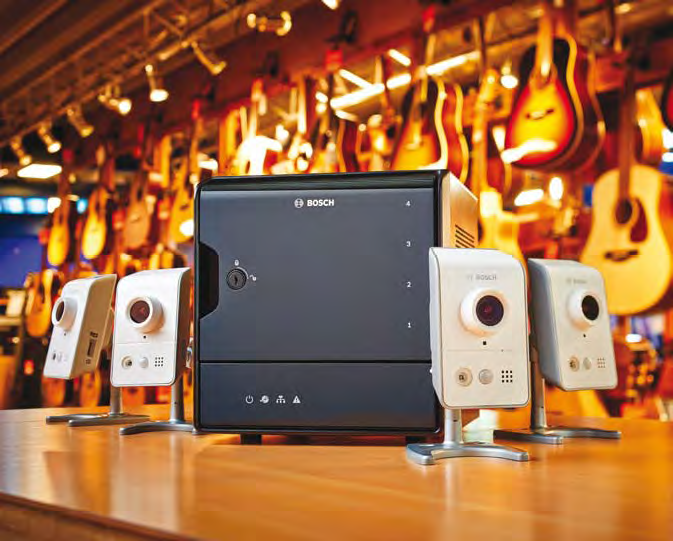 With the SMB camera and recording solutions Bosch offers a cost-effective, reliable and comprehensive portfolio, especially designed for 24/7 operation, to easily set-up a professional solution to safeguard businesses. They ensure that alarms are triggered when needed, and video data is recorded and safely stored, so that data can always be reviewed regardless of time and place.
Beyond the above described video solutions, safety applications are starting to extend into other application areas for the SMB market such as intrusion detection. Here, for example, Bosch Security Systems offers a comprehensive product family around the AMAX intrusion control panels which is supported by a series of wired and wireless peripherals. Householders as well as owners of SMEs (Small Medium Enterprises) have the flexibility to choose between various detectors, magnetic contacts and more, thus protecting their assets with an individually configured security solution.
AMAX 2100 is suitable for small households and stores with a maximum of eight zones, while AMAX 3000 is designed for facilities where 32 zones are required – AMAX 4000 covers the largest version with up to 64 zones. AMAX 3000 and 4000 can additionally be operated via hybrid modus, connecting wired detectors as well as wireless peripherals of the new RADION series. This wireless range comprises 16 different products, including motion detectors, door/window contacts, key fobs, and smoke detectors. This makes it suitable for new installations as well as for integration in existing intrusion alarm systems. Furthermore, the wireless range offers another special feature: by using repeaters even remotely located detectors can be integrated in the alarm system, and a system range of up to 1,350 meters can be achieved. Finally, thanks to auto-addressing, all RADION components are quickly registered within the overall intrusion system.
With their portfolio of video surveillance and intrusion detection, Bosch is an ideal partner to support the needs of the SMB market for safety and security related solutions. This way, small and medium businesses are best equipped for the future.
For further information please Click Here