Secure shopping in the largest Mall in North-Western France
When a new building is being constructed, it is rather easy to equip it with the latest and greatest safety and security systems. Today, these will mostly be IP based, offering the possibility to make double use of the network infrastructure and also to integrate solutions such as access control, intrusion detection and video surveillance into a unified management system.
But buildings mature and change. What seemed perfectly suitable at time of construction may no longer meet the safety and security requirements a couple of years later, and this is why it is so important to plan with open, standards based and scalable solutions right from the beginning. The problem, how-ever, is that such systems were not available when most of today's buildings have been built; making it difficult to update existing safety and security systems to today's standards. Sometimes it may even be necessary to replace older equipment in its entity to allow for a new Greenfield development of the security infrastructure.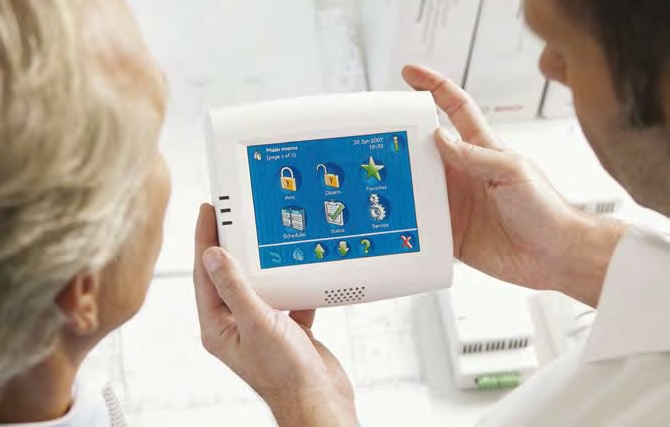 Such was the situation at the Atlantis shopping mall in Saint-Herblain near Nantes. Originally built in the end of the 1980s, the mall has undergone a major reconstruction and enlargement between 2010 and 2012. The mall management decided to take this opportunity to also upgrade their security systems. Rather than the existing stand-alone systems for video surveillance, access control and intrusion detection they wanted to install an integrated security solution based on the IP protocol and centrally managed via a single console and user interface. To ensure smooth integration and reliable interoperability, the entire technology should come from a single vendor and be installed by experienced local partners with extensive knowledge of the chosen products.
Today, Atlantis is the largest shopping mall in Northwestern France and houses more than 170 stores and restaurants, including IKEA, Swarovski, Benetton, an Apple Store and a 12,000 square meter E.Leclerc super store, the largest in France. Total size of the Atlantis mall after the expansion is now 43,000 square meters. The two story complex also comprises two cinemas and a three level parking garage as well as an underground parking area.
In order to design a customized and integrated security solution for the Atlantis mall, Bosch teamed with ISO Security, a long time expert in video surveillance, intrusion detection and access control, and AMR Services, who are active in the same fields and specialize in integration projects. Both have been long-time partners of Bosch, thus guaranteeing the required expertise. Also, ISO Security had already been supplying video solutions to the Atlantis mall since 2008, including PTZ dome and fixed dome cameras, managed by the Bosch Video Management System (BVMS). The scope of the new project was to replace existing intrusion detection and access control solutions with IP-based technology, extend video surveillance through installation of 125 new HD cameras and at the same time integrate all technologies into one consistent security solution. It should also lay the foundation for an integrated building management system, comprising security systems as well as Public Address, heating and air conditioning and control of electricity and water.
Integrated team, integrated solution
During the bidding process, an integrated team of all three companies de-signed an integrated security system that finally convinced the mall management. But the decision was not only based on the design and the capabilities of the solution itself. It was also heavily influenced by the fact that, with AMR and ISO, the Atlantis mall could rely on very comprehensive expertise on the in-staller level.
The new security solution of the Atlantis mall is comprised of 80 access control readers, more than 125 HD cameras and a Modular Alarm Platform 5000 intrusion alarm system with about 1,300 detection points. All components are integrated and centrally managed via Bosch's Building Integration System (BIS). This is a modular security and safety management system which can be highly customized to suit any user's specific needs. Individual modules integrate subsystems such as video surveillance, intrusion alarm, access control, and fire alarm, allowing customers to reduce costs by licensing only what they really need while offering an easy upgrade path, should requirements change in the future. So while the BIS at Atlantis mall is configured to integrate and man-age access control, intrusion detection and video surveillance today, it will also allow to integrate other building technologies in the future.
Solution components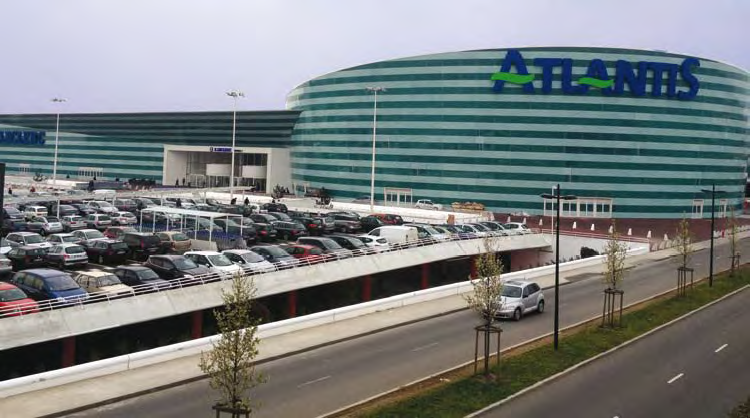 The Modular Alarm Platform 5000 system is a scalable solution for medium-to-large applications. It can connect up to 8 LSN modules with up to 127 sensors or inputs/outputs each for maximum security and flexibility. All programming of the sensors and modules connected to the LSN loop is stored in the panel, avoiding the need to reprogram in case a sensor or module needs to be replaced. The data bus can also be used to connect up to 32 keypads with a maximum of 1,000 users, resulting in an unmatched grade of scalability.
The Bosch Video Management System (BVMS) is a unique enterprise IP video security solution that provides seamless management of digital video, audio and data across any IP network. It is optimized to work with Bosch video surveillance products as part of a total video security management system, but does also support a wide range of third party cameras that conform to the ONVIF standard. In the Atlantis mall, BVMS manages cameras throughout the entire mall including public areas as well as individual stores and parking areas.
Access control is implemented by means of AMC2 modular controllers and AMC readers. Each controller can control a group of one to eight access points. The AMC2 stores all necessary information in a battery-buffered memory and a compact flash storage element so that, even when the unit is offline, it is able to carry out independent authorization checks on access points, take access decisions, control closing/opening elements and register movement events. At Atlantis, AMC controllers and readers protect all restricted areas of the mall from unauthorized access.
All the individual solutions support communications via the IP protocol, making it easy to integrate them using the Building Integration System. BIS allows one single operator to manage and configure all the different security systems of the Atlantis mall from one central console with a unified and intuitive user inter-face.
Conclusion
Combining Bosch's extensive and innovative product range with the comprehensive solution and integration expertise of ISO Security and AMR Services allowed the three partners to design and implement an integrated security solution which meets the strict requirements of the Atlantis mall today, while offering an easy upgrade path to further extensions.
For further information please visit www.boschsecurity.com