Iris recognition authenticates airport IDs by Mohammed Murad
Officials have long sought fast, accurate and convenient security tools for safely moving passengers through crowded airports. However, the COVID-19 pandemic acted as a speed bump to international air travel, reducing last year's passenger total by half compared to an all-time 2019 peak.1 However, those numbers again are rising and anticipated to meet or exceed pre-pandemic levels in 2023.2 
As passengers return, airports and government agencies must deploy systems that assist travelers to safely navigate the terminal from the curb to the boarding gate. It's time for airports to undergo a technology makeover to eliminate the need for passengers to arrive at an airport two to three hours before takeoff.
Biometric-based solutions are ideal for a crowded, fast-paced airport environment. Several factors contribute to airports' growing demand for biometrics, including reduced costs for mature and proven technologies. Airport officials see biometrics as game-changers that provide rapid and accurate identity authentication. Also, passengers are increasingly familiar with biometrics as most smartphones use them to authenticate user identities.
Adding biometrics throughout many airport processes eliminates a passengers' need to fumble with an identification card, passport and boarding pass. Beginning at baggage check-in, a kiosk-based biometric reader almost instantly recognizes enrolled passengers and their intended destination, authorizing the printing of an adhesive tag attached to the bag before placing it on a conveyor belt headed to the tarmac. The process takes seconds and multiple kiosks at each airline ticket counter contribute to maintaining shorter lines.
Airport administrators cannot count on government agents accurately identifying passengers by looking at an aging photo on a driver's license or passport. Biometric-equipped, self-serve kiosks are ideal for the travel document checker (TDC) process, freeing many agents to assist with other airport security operations to optimize customer services. TDC kiosks are in growing numbers at airports worldwide.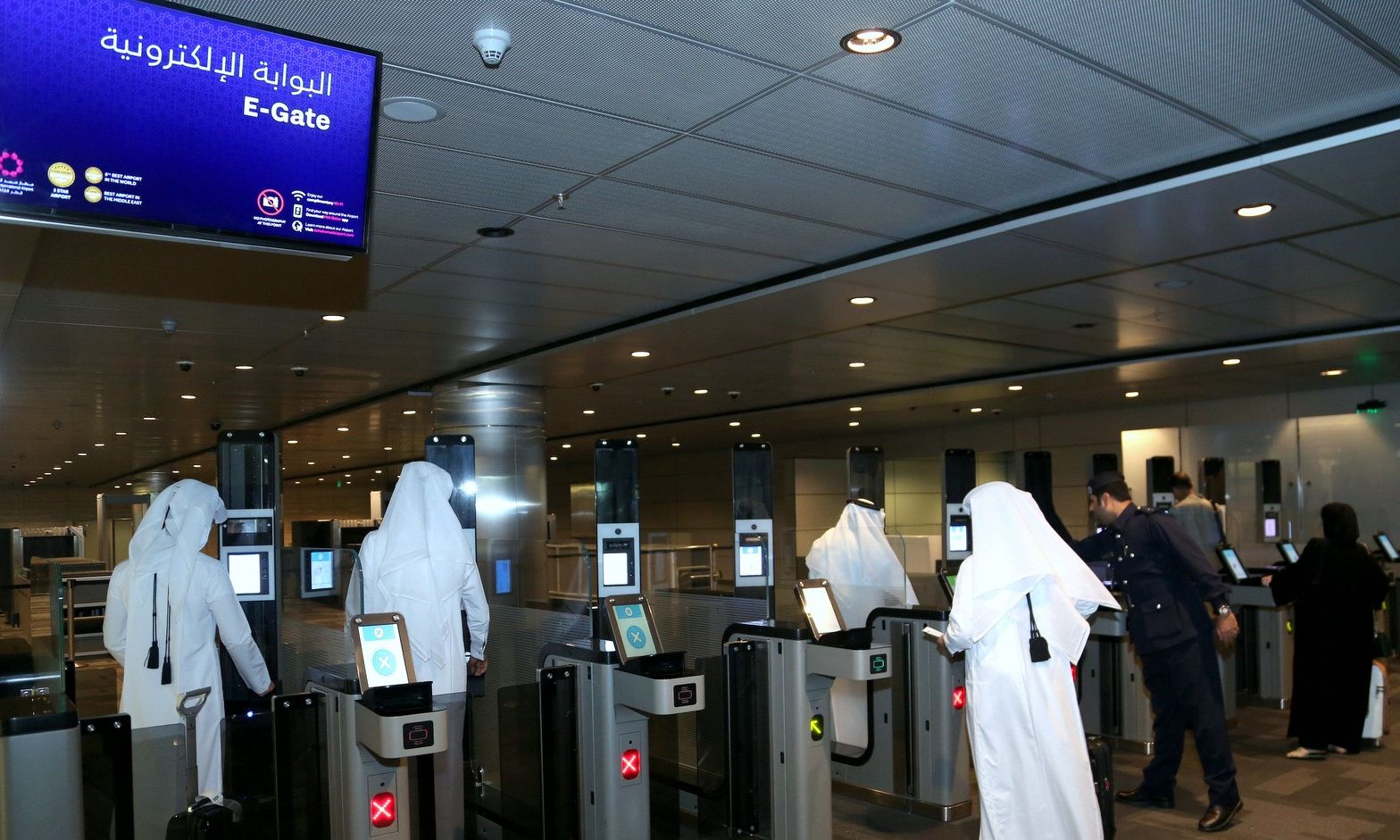 Which biometric?
Each of the three major biometric technologies, fingerprint, facial and iris recognition, has advantages. But iris recognition systems have been proven to provide the quickest and most accurate identity authentication results. The iris, the colored part of the eye surrounding the pupil, has 240 points of recognition – many more than other biometrics technologies. Also, each iris is unique, leading to fewer false positives involving identical twins, other family members, or even members of the same ethnic background. And since the iris remains unchanged during a person's lifetime, children can be enrolled to use an airport identity authentication system at a very young age.
Also, iris systems are ideal for use during a pandemic. Unlike most fingerprint readers, they are touchless and work seamlessly with personal protective equipment such as gloves, masks, and goggles.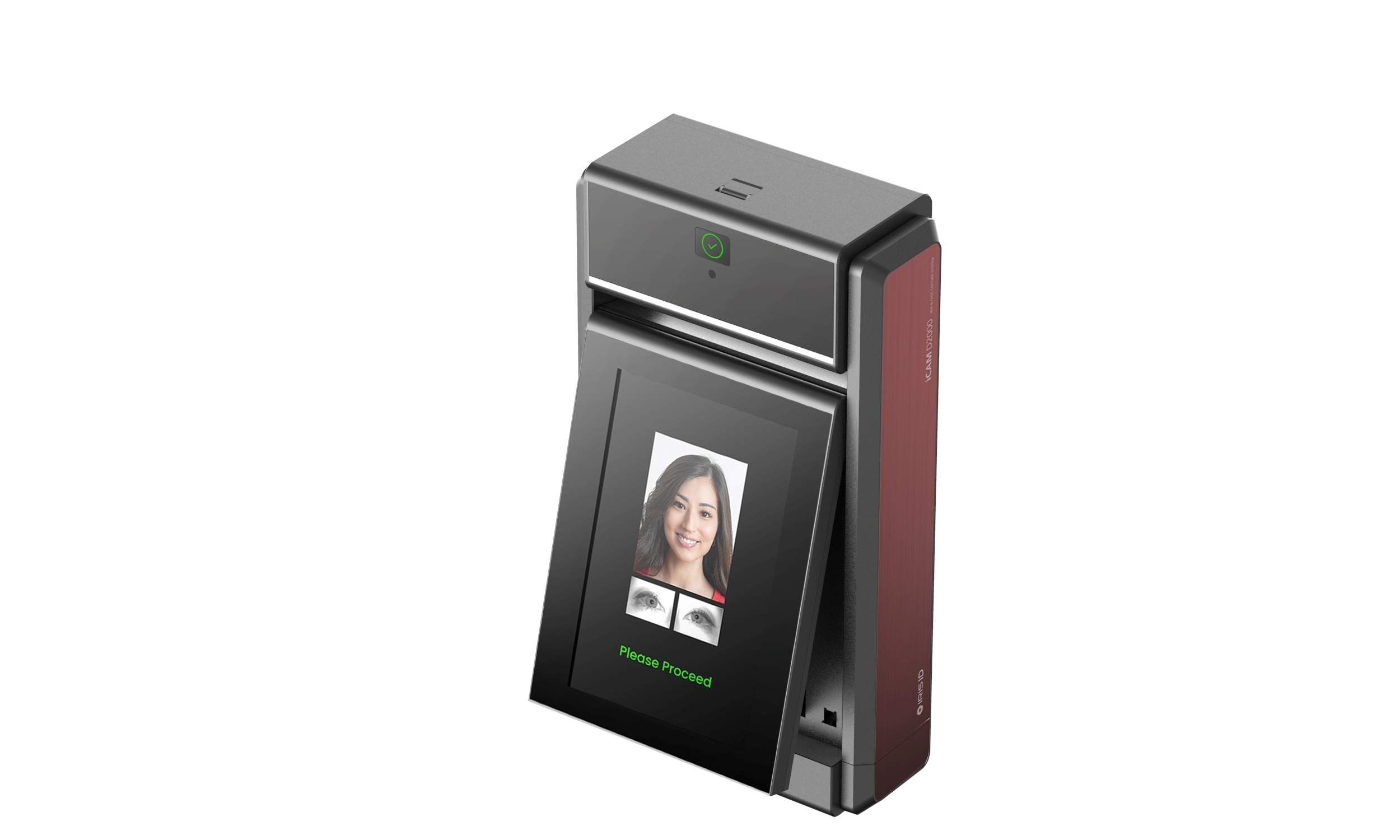 Iris Recognition In Use
London's Heathrow Airport began testing iris-based identification system as early as 2002.3 The U.K.'s current 2025 Border Strategy is a five-year plan to improve national security by using contactless biometric solutions, including iris-based systems and their data, as the sole authentication requirement for cross-border travel.4
Other major airports around the world are using iris-based biometric systems. Here's a look at several.
Dubai International, United Arab Emirates – The world's busiest airport for international travel, recently added scores of iris recognition equipped gates. It takes only two seconds for passengers to look into a contactless iris reader before moving through passport control without any need for any human interaction to leave or enter the country.
Nexus (Canada) – One of the most significant airport projects is a joint Canadian Border Services and the U.S. Customs and Border Protection program. Nexus expedites the security process for pre-approved travelers moving between Canada and the U.S. using self-serve kiosks with embedded iris recognition equipment at nine major Canadian international airports. The system also protects 21 dedicated vehicular border crossing lanes and more than 450 Canadian marine sites for travelers arriving by boat. Enrolled travelers may also use the U.S. Transportation Security Administration's Pre-Check lines in more than 180 U.S. airports.
Amsterdam Schiphol, The Netherlands – Europe's third busiest airport by passenger volume operates its Privium program enabling Dutch citizens to move through boarding and customs lines using iris scans. At enrollment, their digital iris templates are stored on a high-security card. Program members insert their cards into a reader and simultaneously scan their irises to pass through a security gate. If there's a match, the gate opens. Travelers from certain other European countries can clear customs in 15 seconds or less using the Privium program.
CLEAR – A New York-based private company, employs kiosks with embedded iris authentication systems to identify enrolled travelers in more than 30 major U.S. airports. Also used at some stadiums and arenas, the CLEAR service has completed more than 33 million identity authentications. Passengers using the kiosks move through security in a fraction of time compared to those using regular security lanes.
For more information on how iris recognition systems are used for air travel, access control, national I.D. programs, mobile identification solutions, border control and time and attendance, visit the Iris ID website.
(Mohammed Murad is vice president, global development and sales for US-based Iris ID, the world leader in iris recognition platform deployment. For more information, visit www.irisid.com.)
ACI's World Airport Traffic Report reveals domestic traffic leading recovery – Airport Council International
https://aci.aero/2021/11/09/acis-world-airport-traffic-report-reveals-domestic-traffic-leading-recovery/
Global Airline Capacity Is Seen Rising in 2022, Along With Fares – Bloomberg
https://www.bloomberg.com/news/articles/2021-12-22/global-airline-capacity-is-seen-rising-in-2022-along-with-fares
Airport tests passenger eye I.D.s ­– BBC News
http://news.bbc.co.uk/2/hi/uk_news/1808187.stm
K. to use biometric data as sole authentication for international travel – Biometric Update
https://www.biometricupdate.com/202012/uk-to-use-biometric-data-as-sole-authentication-for-international-travel